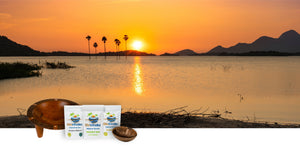 Support a relaxed, happy mind and body with high-quality Kava from BiloVinaka Premium Fiji Kava Powder.
Shop our Premium Fiji Kava Collection
BiloVinaka Premium Fiji Kava is sourced from the highest quality plants in Vanua Levu, the second big island of Beautiful Fiji. It is available as traditional Fiji Kava powder to be prepared just the way it has been in the South Pacific for hundreds of years or as a Micronized Instant Mix to take the hassle out of straining.
Bring the Kava bar to your home.
The growing popularity of drinking Kava socially has seen a rise in coffee-house-like kava bars in the United States and in New Zealand.
BiloVinaka Premium Fiji Kava powder allows you to relax and unwind or enjoy high-quality Kava with friends – without the next day hangover - from the comfort of your own home.
Relax. It's Kava Time.
Originally from the South Pacific Islands, Kava is an ancient plant and herbal remedy that promotes relaxation without hindering judgment or mental clarity. It was traditionally reserved for ceremonial purposes or socialising with special guests.
Make Kava your go-to for stress and anxiety relief.
Calming and gentle, Kava relaxes the mind to promote a more peaceful mood and provide relief from stress and anxiety levels. Its potential anti-anxiety and stress-relief properties are also used to help with insomnia and promote better sleep.
Feel the relaxation with Kava.
When consumed after hard work, training, or exercise, Kava relieves muscle fatigue and relaxes the muscles in your body. It may also relieve muscle tension and muscle aches, acting as a muscle recovery aid.
Kava from Our Friends
We are part of a big Kava family which supports the hardworking farmers and families in Fiji. They are at the heart of all the beautiful Kava that comes from Fiji. We stock a limited range from our friends in Fiji, showcasing the best noble Kava Powder from the best producers.
Smooth, full-bodied taste.
High-quality Kava
Popular knowledge of Kava is often tainted by the quality of Kava drinks sold and consumed in our country. While many believe Kava to have a bitter taste making it undrinkable, this misconception is the result of low-quality Kava. High-quality Premium Fiji Kava is quite smooth, full-bodied, flavour intensive and relatively easy to drink.
Shop Now